NOTE: If you are looking for THE REVIEW, please scroll down.
[dropcap]I[/dropcap]'ve loved cycling since I was a little kid. I first started on a Big Wheels when I was really tiny, moved up to a bike with training wheels, and then received a Mongoose mountain bike for my 12th birthday. Today, I ride a Raleigh Alysa 1 that I bought last year, and I love it.
I discussed the reasons for this choice in a recent article where I went through the pros and cons of different styles of bicycles and reviewed a few offerings from Amazon.
More... In a Hurry? Jump Links! [list icon="icon: check-square-o" icon_color="#0fb157"]
Benefits of Cycling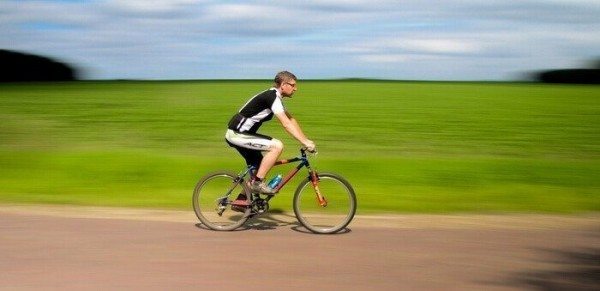 Outside of loving the way it feels to pump my legs hard up a hill and then feel the wind whip past my face on the way down, there are a lot of health benefits to cycling.
Whenever I'm suffering from stress or anxiety, I'll hop on my bike and ride for an hour or so until I cool back down.
Scientific proof backs up this phenomenon. In "Your Brain on Bicycling," Selene Yeager explains how researchers at Kent State have found that cycling, like all forms of aerobic exercise, increase serotonin and dopamine, which are chemicals in our brain that make us feel happier and calmer.
Not only will cycling keep you cheerful, it can also make you smarter. In Yeager's article, she explains that research also shows that cycling can improve mental performance.
Calories Burned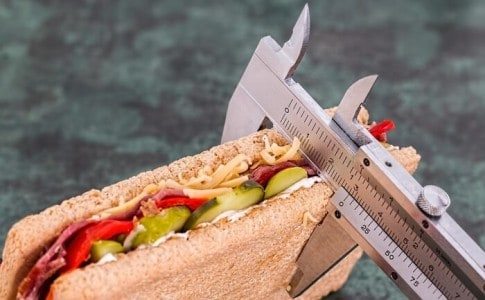 Not only will cycling improve your brain, it will make you physically healthier. Your cardiovascular system will improve, as your heart will get pumping during speedy or hilly rides.
You'll also be building muscle. Since cycling burns a lot of calories, it's also an excellent form of exercise for weight loss.
The number of calories you expend in any activity is difficult to determine, as it depends on a number of factors, including your age, weight, gender, muscle mass, and the difficulty of your workout.
On average, a 155-pound cyclist moving at a vigorous pace will burn 704 calories an hour. I own a Garmin GPS Watch, so I link all of my runs and rides to My Garmin Connect, and it gives me an exact calculation of my calories burned.
There are free options, though. I Love Bicycling has a chart, or you can type in your information at Bicycling.com.
Necessary Equipment
After you have your bike, you'll have a few more purchases to make. Before hitting the open road or trail, you are going to want to make sure you have this essential equipment.
Helmets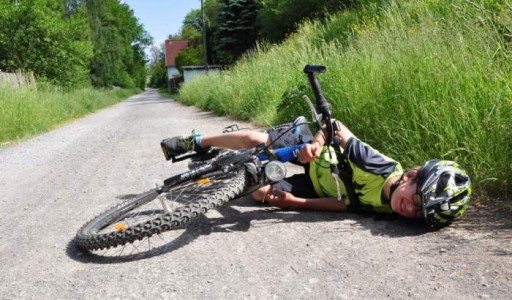 It is illegal in most of the United States to ride a bike without a helmet and for good reason. You're putting your life at risk if you do not wear one.
According to the CDC, in the United States in 2010, 800 bicyclists were killed and around 515,000 were injured severely enough to require emergency room care.
So, whether it looks cool or not—wear your helmet! Any will do but here are a few currently retailing on Amazon.
Note that bike helmets are unisex because they are fully adjustable. You can buy women-specific helmets, but the only reason to do so would be to get a "girlier" design.
I have a tiny head, and I am able to adjust my unisex helmet to fit me perfectly (I have a lower-end Giro).
Schwinn Thrasher Adult Micro Bicycle Helmet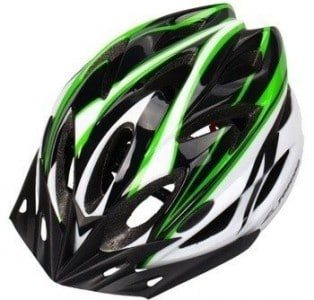 Currently available for $19.99, this helmet has a 4.3 out of 5 star rating. This helmet has moisture-wicking pads to help keep your head dry, and it's fully adjustable.
Pros [list icon="icon: check" icon_color="#0fb157"]
Comfortable
Adjustable: Can fit heads large or small
Consumer Reports Best Buy
Keeps your head cool
Light
[/list] Cons [list icon="icon: warning" icon_color="#b10f1c"]
The foam breaks away from the plastic exterior shell
The visor doesn't stay put very well
Not very attractive
[/list] Overall For less than $20, this is a great buy. The only complaint was that the foam peels away from the shell, but this can easily be fixed with some superglue. If you decide to read the reviews, a lot of people tell stories of how this helmet saved their lives. Let that be a lesson to you!
Bell Solar Bike Helmet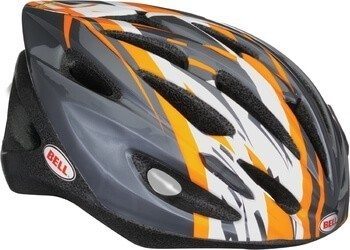 On Amazon, the price range is from $16.13 to $86.44, depending on the style and color. A quick perusal reveals that the average price is between $20 and $30. The helmet has 4.4 out of 5 stars.
This is the last time I'll say it, but if you do read the reviews, you'll see more testimonials about how a helmet saved a person's life. Wear your helmet!
Unlike the Schwinn helmet, Bell's fuses together the helmet's microshell and foam layer so that they stay together better, which is part of the reason for the slightly higher price-point.
Pros [list icon="icon: check" icon_color="#0fb157"]
Adjustable
Lightweight
Space to attach lights and mirrors
[/list] Cons [list icon="icon: warning" icon_color="#b10f1c"]
Color fades
Straps don't lay flat
[/list] Overall Unlike the Schwinn, people with exceptionally large heads mentioned that this helmet seemed too tight, no matter how they adjusted the straps. If you have an average-sized head, though, this may be the better buy than the Schwinn as no one reported an issue with the foam peeling off the plastic shell.
Padded Bike Shorts
Do you absolutely have to have padded bike shorts? No. Should you buy some anyway? Probably. I regularly go on 10 to 20 mile bike rides. If I try to go this distance without padded shorts, my rear end lets me know about it the next day. I can easily take a one to two mile ride to the post office without padded shorts, though, so it depends on the type of biking you do. If you're going to regularly ride more than 5 miles, I'd pick up a pair. You have lots of options on Amazon. Men
Canari Cyclewear Men's Velo Gel Padded Cycling Short
These shorts will run you between $28.69 to $50, depending on the size and color.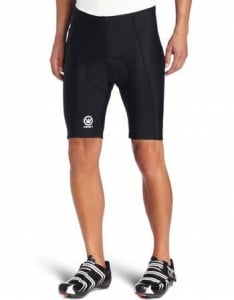 They are rated 4.4 out of 5 stars. These nylon/spandex shorts contain a GEL pad that promises to absorb shock, and the silicone gel won't overheat or leak.
Pros [list icon="icon: check" icon_color="#0fb157"]
Well-padded
Mesh is thick and durable
Rubber strips on the shorts stop them from rolling up
[/list] Cons [list icon="icon: warning" icon_color="#b10f1c"]
The sizing is off, and there is no size-chart on Amazon, so I had to search the web for a while to find one. Reviewers recommended buying a size larger than your normal size.
[/list] Overall These bike shorts are unique in that they are looser in the legs and have a drawstring, which is unusual. Some people liked this fit—others didn't. Those who did not like this style complained that it allowed things to move around a bit too much below the waist (if you catch my drift). Others enjoyed the looser fit. Only you can decide whether or not you like it.
Santic Cycling Shorts Biking Bicycle Bike Shorts Black Padded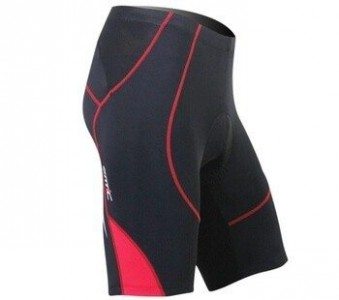 Ranging from $14.62 to $72.26 (depending on size and design), these shorts are rated 4.4 out of 5 stars.
Unlike the Canari shorts, there is a size-chart on the Amazon page. The product promises to keep sweat away from your body, and the fabric is light and soft.
Pros [list icon="icon: check" icon_color="#0fb157"]
High back that keeps you covered on a ride
Comfortable on shorter (less than 10 mile) rides
[/list] Cons [list icon="icon: warning" icon_color="#b10f1c"]
Even though there is a sizing chart, it's inaccurate. A lot of customers suggested ordering two sizes larger than what you normally wear.
Seat pad is stiff and thin
Good for shorter rides but the pad starts moving around on longer rides
[/list] Overall Based on customer reviews, the Canari seems like the better buy. If you do decide to order a pair of these shorts, make sure you order them from Amazon. People who ordered less expensive shorts from non-Amazon companies reported many issues. Women
Baleaf Women's Cycling Padded Shorts Black UPF 50+
These are listed for $19.99 and have a 4.7 out of 5 star rating. The rating doesn't reveal much, though, as there are only 7 reviews.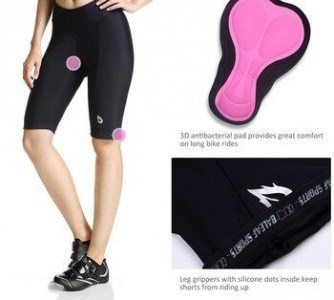 These shorts are advertised as having breathable fabric, flat seams, and an antibacterial pad. Like most bike shorts, they also have leg grippers that stop the shorts from rolling up.
Pros [list icon="icon: check" icon_color="#0fb157"]
Comfortable waistband, as it doesn't use the usual elastic
[/list] Cons [list icon="icon: warning" icon_color="#b10f1c"]
No sizing chart on Amazon, and there's no size chart online. This is an issue Amazon is going to have to fix at some point. From what I can gather from the few reviews, it seems as if you should order a size up from what you normally wear.
[/list] Overall Instead of a gel insert, these shorts simply have extra padding. This means that, if you're going to ride longer than 20 minutes or so, your bottom is going to be sore. You really need shorts with a gel insert to make a difference. These would probably be nice for a spinning class or shorter ride.
Pearl Izumi Women's Quest Shorts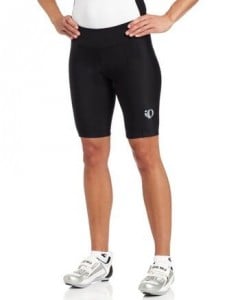 P.I.s are a well-known, higher-end cycling accessory brand, so their products are going to cost you some extra money.
These run from $49.90 to $90.23, depending on the size that you order, and they are ranked 4.3 out of 5 stars.
The material is thin, so these shorts are intended for summer or indoor use.
Pros [list icon="icon: check" icon_color="#0fb157"]
Quality padding/cushioning
Comfortable
Elastic around thighs stops the shorts from riding up
[/list] Cons [list icon="icon: warning" icon_color="#b10f1c"]
There's actually a size chart on Amazon! However, people still reported fit issues. It seems as if most people were happy when they ordered a size up.
[/list] Overall If you regularly go for 20+ mile rides, you'll want to get these shorts. They're comfortable and well made. Make sure you consider the size, though, before you order. Lots of reviewers posted their own height and weight, so you may be able to find some advice there.
Cycling Jerseys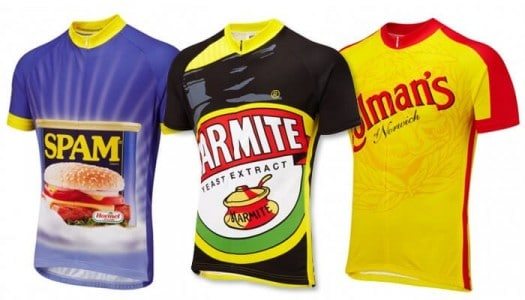 Why do other people buy jerseys? They are good for keeping cool. Most of them are made of moisture-wick material, which basically sucks the sweat off of your body and then quickly dries.
I don't wear cycling jerseys. I'm a runner, so I already own lots of moisture-wicking shirts that I use for bike rides.
The reason some people choose jerseys over regular workout clothing is that they have pockets. Most of them have a zipped pocket on the back that is great for holding your keys, phone, snacks, and a small tool-kit.
Another benefit of a jersey is that it is made of reflective material, so people can see you (or should be able to see you) in the day and at night (though if you're biking at night, you absolutely have to have lights for your bike.
I have this one and love it).
Most of my running gear is also made of reflective material, and I have a pannier bag that I keep on my frame where I keep my bike lock, cell phone, tool kit, etc.
Thus, I don't really need the jersey, though I'm strongly considering getting a long-sleeve one for the winter.
If you would like to ride your bike sans bag, you will probably want a jersey, and there are several from which to choose on Amazon.
Men
Tenn Mens Coolflo Breathable Short Sleeve Cycling Jersey
This jersey is listed for $19.99 to $24.99 and is rated 4.4 out of 5 stars.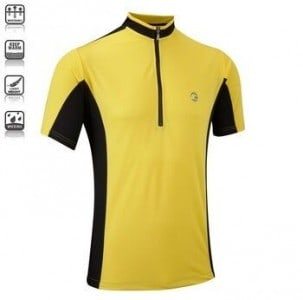 It has high-wicking fabric and three elasticated rear pockets, with one specifically designed for your mobile phone. It boasts a relaxed fit.
Pros [list icon="icon: check" icon_color="#0fb157"]
Bright colors make you highly visible on the road
Lightweight and comfortable
Fits as promised
Keeps you cool and dry in hot weather
[/list] Cons [list icon="icon: warning" icon_color="#b10f1c"]
Pockets a bit shallow (some didn't trust their phones/wallets in the pockets but others did)
[/list] Overall While a couple people reported that they had sizing issues, most people seemed happy with the fit. Part of the issue seems to be expectations. Jerseys are made to fit snug, so if you are a person who likes loose clothing, you may have to order up a size.
Pearl Izumi Men's Quest Jersey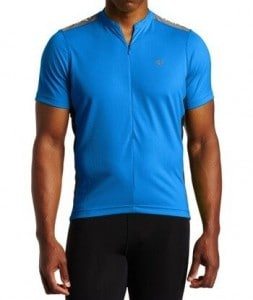 This jersey comes in a variety of bright colors and sizes, which explains the price range of $24.00 to $108.72.
It is rated 4.5 out of 5 stars. There is a size chart on Amazon (which most report is accurate), and it uses moisture-transfer fabric and has three large pockets.
Pros [list icon="icon: check" icon_color="#0fb157"]
Keeps you cool
Seams are double-stitched for durability
Shoulder and side panels keep the shirt tight and stop it from flapping in the wind
[/list] Cons [list icon="icon: warning" icon_color="#b10f1c"]
Not the most fashionable jersey on the market
Some complained the stomach area is too baggy (though men with a belly may prefer the extra space)
The elasticized hem is only in the back, so people who ride road bikes complained of the jersey riding up
[/list]
Overall
P.I. has three different jersey quality levels. This is sort of the entry-level model, so the material is a thicker and less expensive than their jerseys that start at a higher price point. Additionally, this jersey has a relaxed fit, so it is going to fit differently than more traditional jerseys. Overall, this is a good value. Women
Louis Garneau Women's Beeze Vent Sleeveless Cycling Jersey
On Amazon, this jersey runs from $22.95 to $51.00, and the cost depends on the size and color. It is ranked 4.5 out of 5 stars.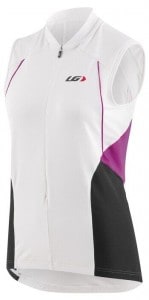 This is a sleeveless jersey intended for the summer months, and it is made with a lightweight mesh fabric and has three pockets on the back.
The ad suggests sizes based on your bust measurements.
Pros [list icon="icon: check" icon_color="#0fb157"]
Fits well and as-advertised
Keeps you cool on a hot day
Comfortable
Bright so people can see you (but not an unattractive neon)
[/list] Cons [list icon="icon: warning" icon_color="#b10f1c"]
Snags easily
Pockets may not be big enough for large phones
[/list]
Overall
This jersey is a great value. Most reported that it fits as expected, and the lightweight material makes it great for hot, humid climates. You won't be able to use this jersey year-round, but it will be perfect in the summer.
Pearl Izumi Women's W Select Jersey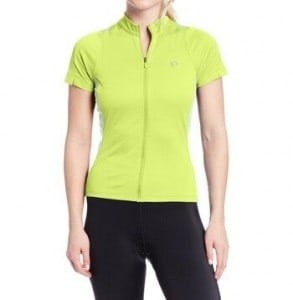 There are only 15 customer reviews on this item, but thus far, most people seem to like it, as it has 4.5 out of 5 stars.
The price is between $30.98 and $95.33, depending on color and size. It has short sleeves, two back pockets, a full-length zipper, and moisture transfer fabric.
Pros [list icon="icon: check" icon_color="#0fb157"]
Thin, stretchy material that makes it great in hot weather
Bright, easy-to-see colors
Great fit, but you'll probably need to order a size up
Soft material
[/list] Cons [list icon="icon: warning" icon_color="#b10f1c"]
On the short side, so you may expose some back and belly
Snags easily
[/list]
Overall
There was only one unhappy reviewer. Almost everyone else loved the jersey, so it seems like a good buy. Most say it runs a bit small, though, so you'll want to order a size up, particularly if you like looser clothes.
Conclusions
I hope you've enjoyed this two-part series on cycling. It is an incredible sport that can improve your mood and brain function and get you fit in no time. More than all of that, though, cycling is a lot of fun. Hope to see you on the road!