Wearing either a tight bra or a loose bra can bring some unexpected results to you later on. 
According to study, around 75% women are wearing wrong bra size, which leads to health problem, especially, breast health.
Wearing wrong bra size not only gives you no aesthetic look (breast sagging if you wear loose bra) but also causes many health problems (if you wear tight bra): neck fatigue, shoulders fatigue, back pain, pinched nerve, heartburn, rash, worse irritable bowel syndrome (IBS).
It is recommended that women should wear sports bra when they are playing sports. This will help prevent their breasts from sagging.
Finding the right bra size is what women should do if they want to have sexy, and attractive breast shape.
Below are some basic steps that you should check in order to buy suitable bras for yourself.
You will be also surprised about the results when the right bra size can help you have great appearance, postures, and confidence with your ideal breast size.
How to measure band size
[list icon="icon: angle-double-right" icon_color="#0fb157"]
Use tape measure to calculate your band size by measuring around your chest right under your arms. (Make sure you wrap your breasts and back, and make the measure fit well).
Don't forget to stand up straight while you measuring around your chest.
Next, round the measure to the nearest inch.
[/list]
How to measure bust size
[list icon="icon: angle-double-right" icon_color="#0fb157"]
Measure around your breast at the fullest part and around your back to get the measurement of your bust size.
Next, round our measure to the nearest inch.
Then use the formula: breast measurement - band measurement = your cup size (please check the following table below for more information about cup size)
[/list]
How to find the right sport bra size
There are two types of sport bras for you to select from:
Compression bra: This is fit for women who have small to medium breasts.
Encapsulation bra: This is fit for women who have large breasts and need fixed support.
The golden rules of buying bras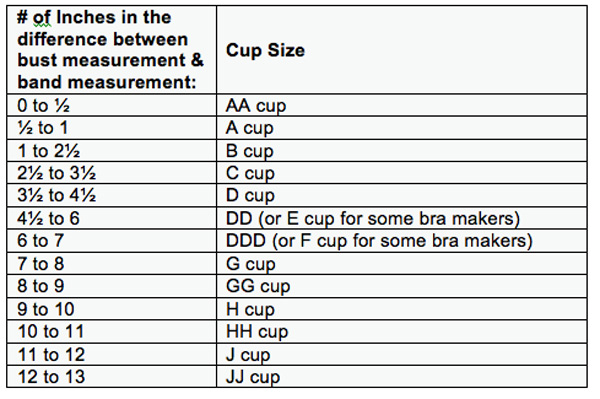 According to study, you should check your breast size periodically and change your bra size if necessary. The fact is that a woman can change bra size up to 6 different bra sizes in her lifetime because of pregnancy, weight gain, and weight loss.
[list icon="icon: check" icon_color="#0fb157"]
When testing bras, you should wear them for at least 5 minutes to have right evaluation.
Lifting your arms, stooping, and jumping to see if your breasts and bra fit well. Check the flexibility, and elasticity, and choose suitable material of denim.
If the bands don't fit well, please check again and replace the fit ones if necessary.
This will help reduce the pressure on your shoulders and neck. Do not buy bras that are too tight or too loose.
Spend time checking information about standard and habit postures.
This will help you choose and find the right bra size.
If possible, go and see the cosmetic doctor to get advice about how to determine your breasts size, postures, and bra sizes.
[/list]
Actually, there are many ways to measure your bra size successfully and easily. It depends on your current breast sizes. Learning how to get bigger boobs is necessary to help you have ideal breast size.